Healthy Homemade Gelatin Snacks using Real Juice
It's baking season!
I'm not the type that just makes baked goods to share, though.  I try to keep some healthy, but still yummy, treats on hand to satisfy City Spouse's sweet tooth.  Being able to use real fruit juice in a gelatin snack helps us get our servings of fruit for the day in a more fun way.
Besides the typical baked goods, I love to make these homemade gelatin snacks.  I have even gotten to the point where I can create my own juice mixes to flavor them as I want to (strawberry kiwi snacks have been made this year!) by purchasing fresh organic fruits and making the juice myself in my awesome Breville juicer.
I'm also attempting to use this method to create new and fun alcoholic snacks for holiday gatherings.  I have a few ideas already in the works, and I'll make sure to share with you all once I have them perfected.
Now, gather up your baking partner in crime and add making these homemade gelatin snacks to your holiday baking agenda!
Healthy Homemade Gelatin Snacks with Real Fruit Juice
Healthy Homemade Gelatin Snacks using Real Juice
Ingredients
4 tbsp. unflavored gelatin
1 cup cold water
3 cups fruit juice
food coloring (if desired)
2 cups sugar (optional)
Instructions
Soak gelatin in cold water for 5 minutes.
Bring fruit juice to a boil.
Add the gelatin to the boiling fruit juice, stirring constantly.
Add 2 drops of food coloring, if using.
Pour into a greased, 9 x 13" cake pan and let stand overnight in your refrigerator.
The next day, cut into pieces.
Sprinkle with sugar, if using.
Let stand for 2 days to allow the sugar to crystallize.
If not using sugar, you may eat immediately or wait to allow to set up further.
Yield will depend on cutting size.
https://countrymousecityspouse.com/homemade-gelatin-snacks-real-fruit-juice/
Country Mouse City Spouse 2018
*Note: I do not use food coloring in my gelatin snacks.  Some colorings have a bad reaction with City Spouse's Crohn's according to some sources, so I just avoid artificial colors as much as possible.  My images show these without added coloring.  The color you see is ONLY from the juice.*
 Let me know if you try this recipe and love it as much as I do!
I love hearing how you used my recipes in your own kitchen!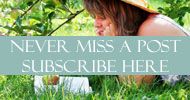 Healthy Homemade Gelatin Snacks with Real Fruit Juice